Here's our round the world trip itinerary (Oct 2014 – 2015), and why we chose these places. After much deliberation and research we decided to purchase round-the-world airfare tickets or RTW tickets. We choose oneworld which gives you 16 flight "segments". A segment is basically any flight so Minneapolis to Lima with connection through Dallas is 2 flight segments. Destinations that are part of our round-the-world airfare ticket are signified by underlined type. The other destinations we had to buy separate airfare or find other transportation. When possible we picked flights operated by a oneworld partner airline to pick up more frequent flier miles. At the end of trip, we had a couple of free international trips!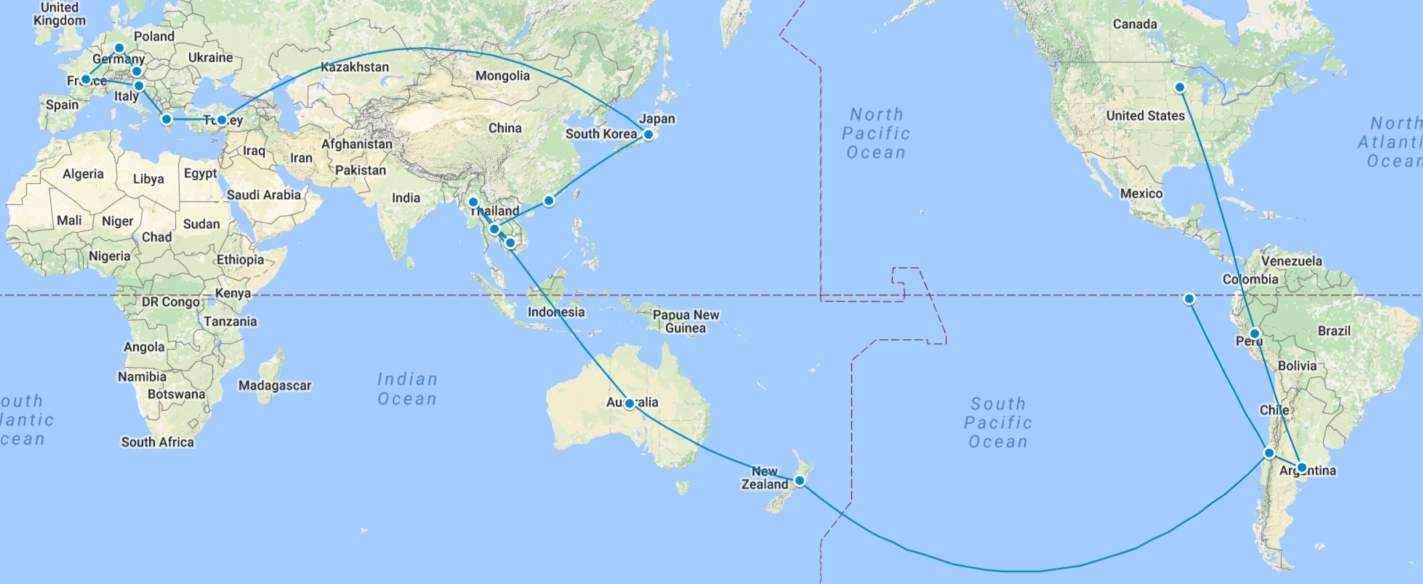 Lima, Peru – 10/2 through 10/20, RTW Ticket – Machu Pichu is at the top of Alicia's desired locations to visit on this trip. Weather is an important factor with all of the hiking around the area, and it's entering the rainy season. October is a "shoulder" season so rain is possible but it should also be less crowded. We are staying in Lima for a week to adjust to our new lifestyle before bouncing around. Most would consider this "too long" to stay but we'll be perfectly happy indulging in Peruvian cuisine. Lima has recently been gaining attention and as a new foodie destination.
Cusco – 10/9 through 10/20, flight – Cusco is the We Hiking Machu Pichu and the surrounding areas is going to take up the bulk of our stay here. The scene has a more local flavor than Lima and should be a bit cheaper. Hiking ruins and mountains will provide a wonderful scenic memory for years to come.
Ollantaytambo – 10/16 through 10/19, collectivo – After getting to Cusco and figuring out the logistics of visiting Machu Pichu we decided to spend 3 nights in Ollantaytambo. (LINK TO POST ABOUT IT)
Buenos Aires, Argentina – 10/20 through 11/3, RTW ticket – Both of us are big on steak and wine, and Argentina has both in spades. Meat comas and hangovers are expected. Larger cities have been fun to visit for us because of the busyness of it all.
Mendoza – 11/3 through 11/13, flight – We can still remember how we got hooked on Malbec from the Mendoza region. We want to go on bike tours through the vineyards and perhaps take a cooking class that pairs wines with what we make.
Santiago, Chile – 11/13 through 12/24, RTW ticket – Alicia's friend Michelle lives in Viña del Mar, Chile (1.5 -2 hour bus ride from Santiago). Michelle was an exchange student that "forgot" to come home, making a life for herself abroad. Chile also has the wine culture that we enjoy. With our own personal tour guide, we are taking an extended stay here to fully experience everyday life.
Galapagos Islands, Ecuador – 12/11 through 12/19, flight – Michelle and her mother are heading to the Galapagos Islands and asked if we wanted to come along. DUH? Yes, that does sound like a fantastic experience. Seeing wildlife that exists nowhere else in the world in a tropical paradise is a pretty easy decision to make.
Auckland, New Zealand – 12/24 through 1/13, RTW Ticket – Merry Christmas to us, we depart Santiago on the 24th and arrive in Auckland on the 26th. New Zealand is considered to be visually striking by everyone that has been there. Hiking, rafting, and wine tours are at the forefront of our reasons to go.
We'd hoped to make it both islands but were only able to explore the north island by renting a car and taking a few ferries to visit: Bay of Islands, Ninety Mile Beach, Cape Reinga, Hamilton, Waitomo Caves, Rotorua, Waiheke Island and Rotoroa Island.
Sydney, Australia – 1/13 through 1/29, RTW Ticket – The Aussies we've encountered on our SEA trips have all been very pleasant and easy going. Diving the Great Barrier Reef is on the bucket list of anyone who dives, so that seems like a fun thing to try. The wines of Australia simply must be sampled!
Cairns – 1/21 through 1/28, Flight – Base for visiting the Great Barrier Reef and getting our PADI Open Water Diver Certification.
Bangkok, Thailand – 1/29 through 4/1, RTW Ticket – Thailand is easily one of our favorite places. Incredibly cheap once you're there, with meals you'll remember for a lifetime for the low price of $1-2! We know we want to stay awhile on Ko Phi-Phi, an island off of the southern east coast. It's one of the most beautiful places we've encountered and will be an absolute joy to stay for a long weekend.
Chiang Mai, Thailand – 2/6 through 2/13 & 2/20-2/21, flight – Northern Thailand is backpacker country. It's a laid-back scene with a variety of people moving through at a leisurely pace. That will definitely be a stop for us as well.
Pai, Thailand – 2/13 – 2/20, shared mini bus – After arriving to Chiang Mai and finding that a lot has changed. We added a trip to Pai which is supposed to be more laid-back, similar to what we experienced when we visited Chiang Mai in 2010.
A tourist visa is only valid for 30 days so we plan to make a couple trips to neighboring countries before returning and visiting the southern parts of Thailand.
Krabi, Thailand – 3/11 – 3/25, flight – Beautiful beaches, islands and scuba diving. We'll spend some time relaxing on Klong Muang Beach before heading to Phi Phi islands for some diving and then a couple of nights in the touristy area of Ao Nang.
Bangkok, Thailand – 3/25 -4/1, flight – before continuing on from Thailand we'll spend another week in Bangkok catching up on work and enjoying good cheap food.
Yangon, Myanmar – 2/21 – 2/26 & 3/3 – 3/4, flight – Food, culture, natural beauty and the fact that tourism is just emerging are our top reasons to visit. 2012 was the first year that the number of tourists entering the country exceeded 1 million. For reference there were over 22 million tourist arrivals to Thailand in 2012.
Siem Reap, Cambodia – 3/4 – 3/11, flight – Alicia majored in Religious Studies and is very eager to visit Angkor Wat, the largest religious monument in the world.
Hong Kong – 4/1 through 4/13, RTW Ticket – Mainland China also received unflattering reviews from nearly everyone we've spoken with, but Hong Kong was labeled a "must-go" by those same people. We aren't really looking for much city living on this trip, so a week will be plenty. Even so, the bustle of South East Asia's commercial hub (and recently their "occupy" style protests) will provide interesting experiences.
Japan – 4/13 through 5/11, RTW Ticket – John was the main instigator on this choice. Japan provides unique and fantastically bizarre culture to pair with our Sake and Sushi palettes.
Osaka

– 4/13 – 4/15, RTW Ticket – Our flight took us here first where we got acquainted to Japan. It's a very metropolitan city to cut our teeth.
Kyoto – 4/15 – 4/27, train – In addition to the temple grounds with the thousands of "Torii", Kyoto has castles and gardens to visit.

Tokyo

– 4/27 – 5/11, RTW Ticket – Most of the things I see coming out of Tokyo are very unique, and the city has a lot of history.
Istanbul, Turkey – 5/11- 5/25, RTW Ticket & flight – Istanbul has been a global trade center for centuries, and Alicia can't miss the first "shopping mall" in the bazaar! While we really wanted to visit some Middle Eastern countries, the region seems too dangerous right now. Istanbul will be the closest we get to Middle Eastern culture. John's dad has one rule in life that we'll be following on this trip: "Don't die on vacation."
A large portion of Europe (26 countries) is in the Schengen Area where we can only spend 90 days in a 180 day period. To make this work we had to revise our original list of countries.
Greece – 5/25 – 6/20, flight – Cheap, filled with history and fantastic cuisine. That's right up our alley. The goal is to stay on some of the Greek islands and soak up the sun in the summer months as well. We hear Santorini is a beautiful place.
Athens – 5/23 – 5/30, 6/1 – 6/3 – A metropolitan area interspersed with thousands of years old buildings. Definitely unique.
Delphi – 5/30 – 6/1, bus – Tucked away in the mountains of Greece, the believed to be center of the world certainly deserved that reputation. Beautiful.
Crete – 6/3 – 6/20, flight – We didn't get to Santorini as it takes too long, but Crete was wonderful! We stayed on the north side in Kissamoss, hiking and diving.
Croatia – 6/20 – 8/1, flight – Recommendations from friends and family plus Game of Thrones initially got Croatia on our list. Then we discovered it is not included in the Schengen area which make its a must-visit for this trip so we don't exceed the 90 day visa.
Dubrovnik – 6/20 – 7/1, flight – The red keep! Dubrovnik is much more than this little section of town, and exploring the coast kept us entertained.
Split – 7/1 – 7/15, ferry – Another seaside town, Split wasn't all that we'd hoped for. In fact, it was one of the most boring areas we've encountered.
Šibenik – 7/15 – 8/1, bus – But to make up for the disappointment that was Split, Sibenik was quaint, pretty, and entertaining.
France – 8/1 – 9/1, flight & train – Every French speaker is mildly amused to learn that we don't speak French with our very-French last name. We should probably at least visit the country. Initially on John's list due to the WWII history and our enjoyment of French cuisine from experiencing it in Bora Bora, Alicia came to find many places in the country with exquisite scenery and activities.
Nice – 8/1 – 8/8, flight – Stop along the French Riviera on our way north.
Ventabren (a Provencal village near Aix en Provence) – 8/8 – 8/14, rental car – Hike through the gorges in the alps.
Small Mountain Town near Aix-les-Bains – 8/14 – 8/18, rental car – A quick visit to Annecy, "Venice of the Alps" for it's canals snaking their way through the city.
Paris – 8/18 – 8/26, train – Met Alicia's parents in Paris.
Normandy (Neuilly-la-Forêt) – 8/26 – 9/1, rental car – John is a WWII buff, and here's one of the better spots for it.
Germany – 9/1 – 9/7 & 9/24 – 10/1, train, rental car & RTW Ticket – We end the trip with Oktoberfest in Munich.
Mannheim – 9/1 – 9/6, train – Short train ride from Paris, and a good deal on the train ticket. Day trip to Heidelberg.
Rothenburg ob der Tauber – 9/6 – 9/9, rental car – Well preserved medial town and Germany's best-preserved walled town.
Munich – 9/24 – 10/1 – RTW Ticket booked back to the Minneapolis, MN
Austria – 9/9 – 9/24, rental car – Not on our initial lists, but we were drawn to the great hiking in the alps. Booked an extend stay in the tiny town of Wagrain with the intention of visiting Salzburg and Hallstatt.