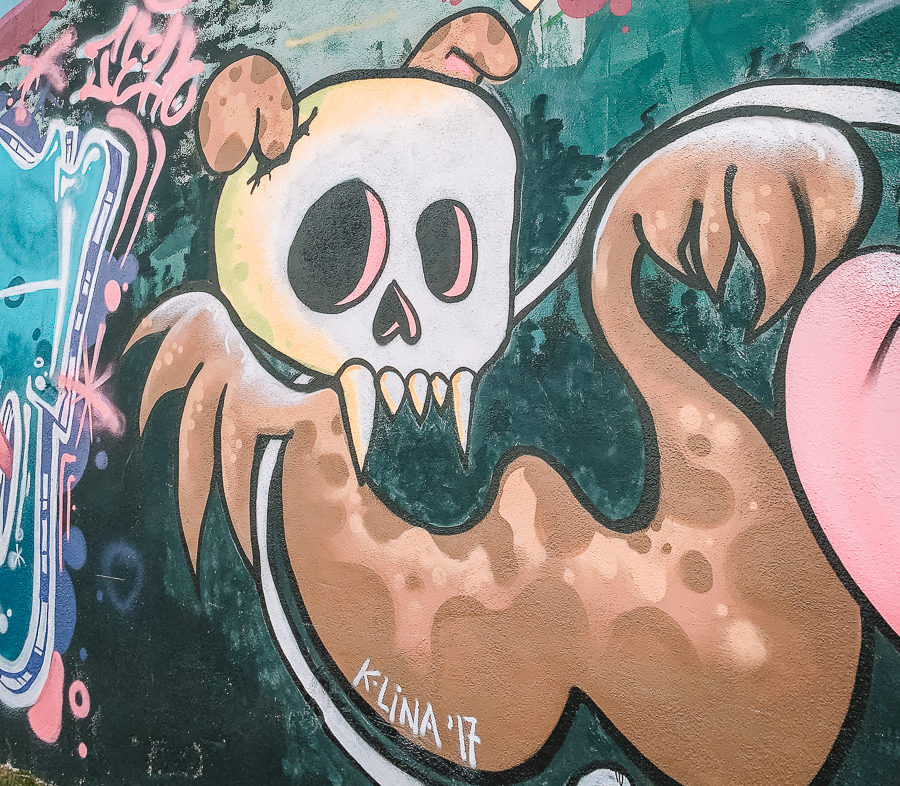 SEO is dead. It died back in 2010 but people still refuse to acknowledge it. Here is the easiest proof that SEO is dead, the search results page (SERP) itself: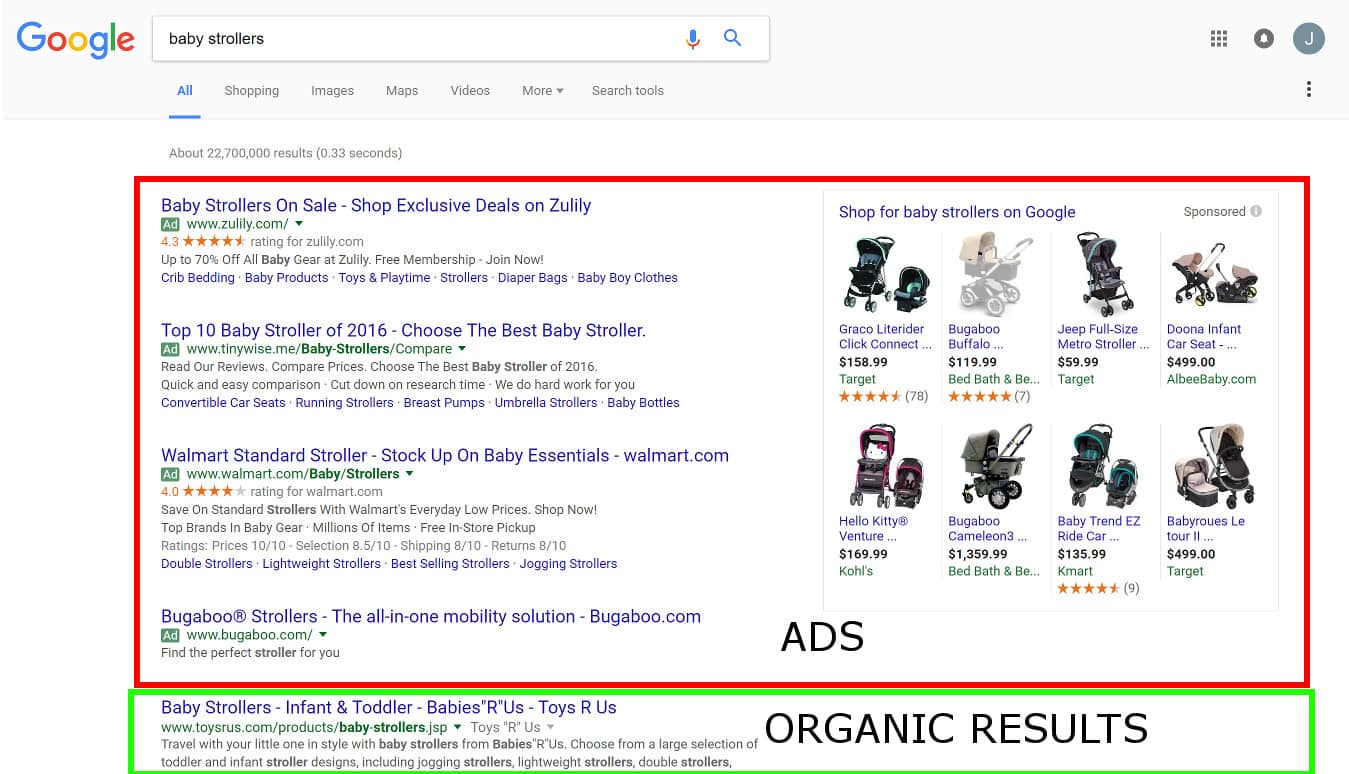 The first organic result is barely on the page… or even below the fold!
Any remotely commercial search has tons of ads above the organic results. Even if you're #1 for your search, your result will still be buried. Mobile traffic surpassed desktop traffic years ago and it doesn't look like anything will reverse that trend. On mobile, it takes several swipes to get to the first organic result!
Aiming to be #1 in Google means you're still invisible!
Honestly, it's hard to overstate this point. #1 in Google still means you're not even shown until the user scrolls down… IF they scroll down.
Ads are more enticing than organic results
The ads have pictures of the product, pricing, reviews, and sitelinks to other relevant areas on the website. The organic links are bland text that blur together.
Which do you think the user is going to click? In the image above, there are 11(!) ads above the first organic result that all have extra information an organic ad is lacking.
Our agency saw 25% drops in organic traffic for clients, across the board
We have clients in vastly different niches, and all of them saw the same trend: in Q1 of 2016, organic traffic dropped like a rock. This drop coincided with the changes to Google Shopping and removal of right hand side ads. Google didn't just remove the right hand side ads, they put additional ads in the main column. Our clients didn't make any huge changes and never invested in scammy SEO services that would get them penalized.
The elimination of the right hand side ads and introduction of more ads appearing in the main feed pushed organic results farther down the page. More scrolling + More ads = less organic clicks.
Ads are now nearly indistinguishable from organic results (other than the cool features ads get and organic doesn't)
Searchengineland has a great article on how ad appearance has changed since 2010.
"AdBlockers are a thing! People won't see the ads!"
Guess where the majority of AdBlocker's revenue comes from? Google, paying the creators to not block their ads. When the next AdBlocker extension gets big, Google just hands them a pile of money to neuter it. Paying a few million dollars to get a few billion dollars is a great investment on Google's part.
SEO is too slow to be effective – paying for ads is better
Here's why most people give up when trying to start an online business:
Start a new website. Google indexes roughly once per quarter. That means if the site is new, it'll take up to 3 months to even get ranked!
So they waited 3 months and now you see their rankings: they suck because the site is new. Do SEO things like like put out content and get links. Wait 3 months for the next index to come out.
It's now 6 months in and they still don't have sales because they don't have traffic because the rankings suck. Most people gave up 3 months ago, but they push on! They've put 100's of hours into cranking out stuff no one sees.
9 months later, they finally have good enough rankings to have some traffic. Still no sales because they couldn't test conversion optimization, which they start to do.
One year after starting, the website owner is burned out. There's a few thousand dollars in sales which don't even begin to cover the cost of the owners' time.
SEO is a means to an end: getting traffic. Google, Facebook, Twitter, etc are all willing to sell you more traffic than you can possible handle! Before you complain about the cost, remember that SEO isn't free. It's the most expensive way of getting traffic out there.
Paying for traffic means you can start seeing results immediately. In SEO, if you picked the wrong strategy, not only will it take months of work to fix, you won't even know if your new strategy is working several months after that! With paid advertising you can get immediate feedback and change your strategy from day to day. The second you find a profitable niche, you can duplicate it and increase the budget and see results that day.
So what should you do?
Knowing the basics of SEO is still a good thing. There's no reason to ignore it when the basics are so easy.
View each platform as a search engine. Google is the #1 search engine, but can you name the second? It's YouTube. People don't think of it that way, but you should. Buzzfeed reports that social greatly outperforms search for them. They also used email newsletters to bring people back to the website. Stop thinking that search is the main way you get traffic!
Step 1 is creating good content. Good content will always have a place. Unfortunately I don't have any advice on this topic other than to practice. Create content every day, get feedback, and try things.
Step 2 is spreading your content across as many platforms as you can: Twitter, Instagram, SnapChat, Amazon, etc. Yes you would have to create content specifically for that platform. For example, I could put together a little e-Book from a collection of posts on here and put it up for $1.00 on Amazon. The main purpose wouldn't be to make a killing on the book itself, but act as a gateway for people looking on Amazon for travel to come here.
On the site I created for SEO testing where I got 100,000 sessions a month in ~6 months, I made sure to use as many "search engines" as possible. Each article had images that were tagged to show up in image searches, videos put on YouTube, links from social media such as Reddit, and links from community forums. There were plenty of ways to find my content because I put it in a lot of different areas. That in turn gave me good rankings in the search engine. But by that point I didn't really care as my brand was larger than the traffic the search engines were giving me.
When you start out, you probably won't be good at making content. That's why I don't suggest putting money behind your efforts right away: paying to distribute bad content won't work. But once you find your content being liked and shared, it's time to get out your wallet.
Step 3 is paying for traffic to build on what already works. If you're good at creating content, you can get to this step in a week or two. This is also the time to work on optimizing conversions.
The internet landscape is constantly changing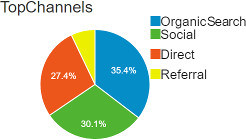 Don't get stuck thinking Google is the portal to the internet. Instead of trying to game Google to be hidden under a pile of ads, spread your message across the other search engines that you didn't think were search engines. And when you find something that works, pay for traffic and watch your site take off.