Yes you can get paid for drinking beer. Don't believe me? It wouldn't be the most ridiculous way people make money. Not even close. Let's look at a tiny portion of the ways people make money before I tell you how.
Tucker Max is an asshole. He says it right on his book, I Hope They Serve Beer in Hell. It's a collection of stories of Tucker being a bastard in every way possible. It became a best seller.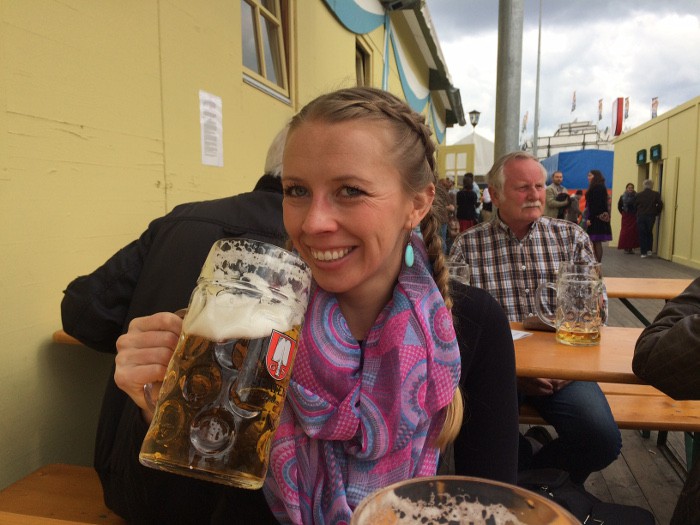 Jackass is a movie where they kick each other in the balls and drink horse semen. It started as a group of skateboarders screwing around, daring each other to do stupid things, and laughing at each other's physical pain. They recorded the idiocy on video and it would later be picked up and broadcast.
Grumpy Cat is just a house cat with a sad looking face on him. The owners created video of this cat and posted in on YouTube. They made so much money that they quit their jobs. The goddamn cat has an agent.
EL James, creator of 50 Shades of Grey, started out by writing erotic Twilight fan fiction. Fantasizing about Edward lead her to a net worth of $90 million.
@TweetofGod is a Twitter account that was made into a Broadway play.
@ShitMyDadSays is a Twitter account that was made into a book and a short-run TV show starring William Shatner.
Fashion Instagram bloggers are people that Alicia worked with while at Target. They'd pick out clothes in the store, go to the dressing room, try them on, take selfies, and post them in Instagram. And not even buy the clothes! These people make 6 figures and are flown to fashion shows around the world.
Video games are an endless ecosystem. Pick any popular game and there will be streamers, fan websites, strategy websites, coaching, professional players, and mod creators. When that video game goes stale, move your audience to next game of the year.
Bloggers of all types make their living online. Mommy blogs, DIY blogs, Investing blogs, Travel blogs, and I even heard that some sites on the internet are about sex. Pick your interest and I guarantee there's an audience out there no matter how ridiculous you think it is. Like underwater basket weaving.
I spent 2.5 years as a professional online poker player. It paid for Alicia's wedding ring, her BMW x5, and our destination wedding to Aruba with a $1,000 subsidy to each of the groomsman/bridesmaids.
Don't like poker? Why not try sports betting? Heck, there are even professionals playing fantasy sports.
If you like socially acceptable gambling and not being treated like a heroine-addicted-child molesting-reject, think of becoming a day trader. Yes the stock market is gambling. Take it from me, a former professional gambler.
The Starters are a TV show on the NBA channel who started as a simple podcast. They did the podcast daily for years, eventually getting paid for their work by websites. And later, the NBA itself.
Jenna Marbles creates girly videos on YouTube and makes millions per year. Topics include makeup, boys, and "OMG" stories.
PewDiePie plays video games and uploads them to YouTube. He's the most watched YouTuber. In 2014 he made 8 million dollars.
Ken M is a professional online troll. He goes to comment sections of websites and tries to trick people into stupid arguments for his enjoyment. This started his writing career and now in addition to writing for Comedy Central and other websites, he was named one of the 30 most influential people on the internet by TIME magazine.
Andy Samburg and his Lonely Island crew started out on YouTube. He's since gone to SNL, starred in movies, and has a TV show called Brooklyn Nine-Nine.
Justin Bieber made his debut on YouTube and a producer clicked on his video by accident.
E-Books have broken the rules of traditional publishing. It's easy to release a title on Amazon or other online book sites with minimal effort.
Etsy is a way to make arts and crafts without having to worry about the hassle of setting up a website.
StichFix is a company that gives fashion advice for people. Think you have an eye for fashion? Become a consultant and work from home!
Mythbusters were just a group of guys that liked blowing things up.
Vine NBA parody guy makes short videos mimicking professional NBA players. These 15 second videos pull in 6 figures.
Rick Steves put out TV shows on public access for years before taking off as the travel authority online.
Reaction Videos are simple video blogs where the user is commenting or ranting on a particular phenomenon. Yes people make a living at this.
Online stores are just that. Selling things. Go to Shopify and set one up for yourself. Like selling offensive T-shirts few people will have the guts/stupidity to wear in public? That exists.
SEM/SEO/Social Marketing are skills that are desperately in need by companies, but you can't go to college for them. Learn about them online and then try them for yourself.
A British teen makes tens of thousands of dollars helping Chinese parents name their babies.
Amazon has professional book reviewers. They wrote so many reviews that companies pay them to read and review their books.
Web comics flourish without the traditional newspapers. Can't draw? No problem. Not funny but you can draw? Sure.
EatWith is a site for hosting people in your home and cooking for them. Like your own private restaurant.
Take a few years off and teach English in foreign countries. Easy job in exotic locations.
Airbnb lets you rent out empty rooms [you weren't using anyway] to travelers.
Tripadvisor tours are great ways to give a service in your town. Wine tours, pub crawls, walking tours, fishing tours, historical tours, boat tours, whatever.
Upwork/eLance are freelancer sites to sell your services to people.
Copy writing has become fashionable with digital nomads.
Subscription boxes are small packages that arrive every month in the mail with a new thing to try. There are shaving clubs, wine boxes, candy, BarkBoxes for your dog, and more.
Mike Cernovich has become a media personality with nothing more than a website and Twitter.
Fiverr is a place for people to do their ridiculous skills for others at a low cost of $5. Are you an attractive woman who will record a 5 second video for someone? Great, you just made $5 for doing practically nothing. And you can include a $50 add-on where you will blow a kiss to the viewer. Or blow up a balloon with a message on it that explodes.
Mr Moustache found out how anyone can retire at 30, just by using math.
Buzzfeed is a $100 million dollar company that spews "listicles". You know, the Top 6 Ways Peanut Butter Will Cause Your Death? That crap.
Programmers will always have jobs, so learn for free at CodeAcademy.com. Gain experience by building stuff and submitting bug fixes to open source projects.
OK, so people make money in all kinds of ways
Here's something you probably didn't catch: the above costs almost nothing to start. The device you're using to read this probably has a camera on it and is connected to the internet. That's all you need to start on one of the above.
So I hope you can see that almost anything is possible.
What else is required?
Persistence
Courage
Delusion
It will probably take a long time to show results for your effort. The downside is that to become world class at something, you need to spend 10,000 hours on it. That's a lot of time. The upside is that many skills are transferable and you probably have put a lot of time towards your activity anyway. For example, all that time I wasted debating people on forums over video games drastically helped my writing. As did time spent writing memos in my office job. All the time I spent writing on this blog, Reddit, Twitter, or Facebook also helps my email communication to clients. All the activities I choose to do improves my skill at writing. I suspect you have a talent or hobby that you've kept for awhile and are similarly good at. Start there.
Gaining a following will take more time than you'd like. There's no simple or single route to success other than keeping at it and trying new ways to get your message out there. Sorry. The best advice I can give here it to read Jab, Jab, Jab, Right Hook by Gary Vaynerchuk. Most people try to close the sale (right hooks) with everything they do and forget that providing value to people (jabs) is actually the more important part.
Next up, courage. People will look at you differently for breaking tradition. They may even look down on you. Others will tell you that you "have" to do this and "have" to do that. You don't. Take advice from people whose life you want to imitate, or from people who have direct success at what you want to achieve. Have the courage to take risks. You will lose friends as you succeed. It's a cost few people talk about, but it's there.
Get good at being delusional. The most successful people I know, meet, and read about all have a positivity force-field which blocks all reason. To these people, success is right around the corner at all times. They know that putting in the effort will get them there.
This post was inspired by someone on Reddit who lamented: "Follow your passion? No one will pay me to drink beer!".
I disagree.
Craft breweries and pubs are growing like weeds. Become a beer expert (read: get drunk). Know everything about how it's made and the different styles. Create a beer tour that goes around to different pubs and breweries. Make a simple webpage and put reviews from friends and family on Tripadvisor to start. Pay $10 per week for AdWords advertising and start a Facebook page. Start a subscription box with beer that you curated. Sell beer T-shirts and accessories. Make a YouTube channel all about beer. MAKE STUFF.
When I walk into a liquor store, I am overwhelmed with choices. Hundreds of beers that I've never had before. So you might be thinking that no one will pay you to drink beer, but I'm saying that's exactly what we need right now.