UPDATE: RealtyShares is no longer accepting new investors
Here are RealtyShares.com returns and review, for those who want to invest in real estate but don't want to own physical property, REIT's, or are looking for a different type of investment.
We invested $20,000 in two separate projects to test out RealtyShares.com. Below is our experience. In short, it has been fantastic right from the start, and we'll definitely be doing more business with them. We used to be slum lords own rental property, but our experience with RealtyShares.com convinced us this is a better way to invest in real estate.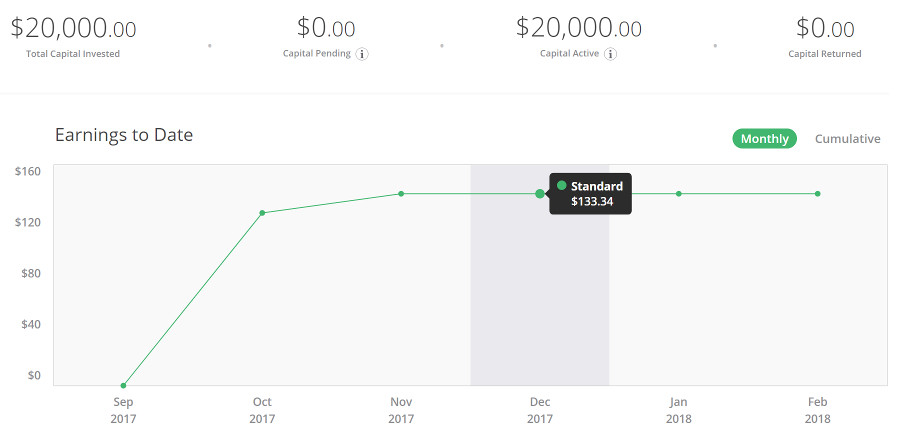 What is RealtyShares.com?
RealtyShares.com is crowd funding for real estate. Normal people act as the bank by lending money and getting interest!
Why would a real estate developer use crowd funding over traditional banks? Because, since the 2008 collapse, banks tightened their pockets when lending money to prevent another huge loss. The US government also put additional regulations on lending. This created a bottleneck for lending now that the economy is trending upward again. There's lots of people wanting loans to expand, but it's difficult to get a loan. As one real estate developer said to me: "It takes 3 months just to get a bank to look at you, and we want our entire deals bought, renovated, and sold in that time.". Businesses are turning to crowd funding to get around overly tight government regulations.
How does it work?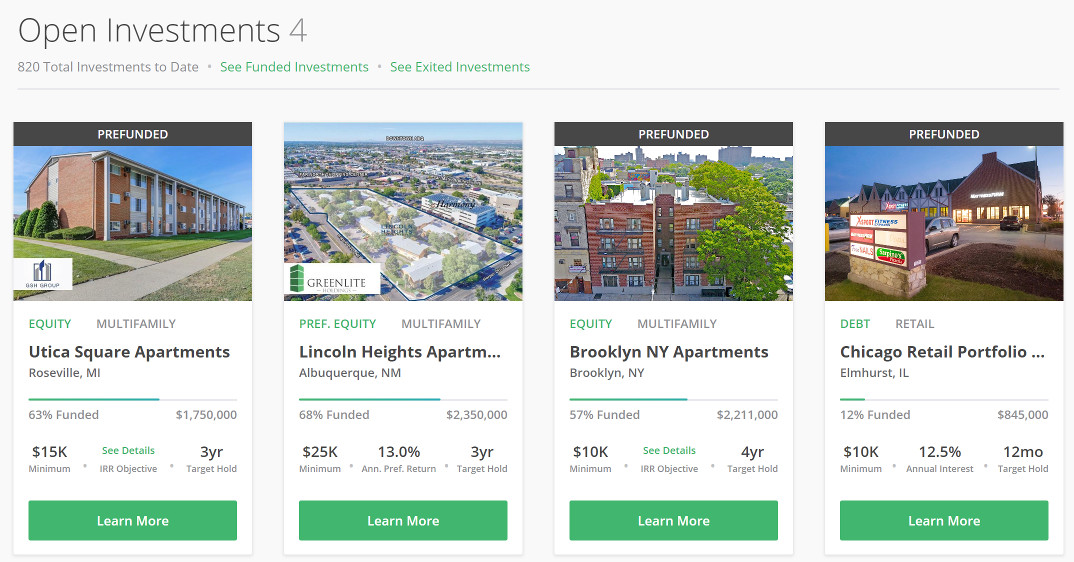 Projects update every week. The above is a picture of the investment dashboard. There are opportunities to invest all over the country and in everything from single family homes to large commercial developments.
Each project listing comes with documents about the developer, plan, and property. As you can see above, there are also many different timelines. Some are short flips of a few months while other projects are multi-year developments.
Investments can be as low as $5K USD, but are typically $10K+.
RealtyShares.com also has agents that will answer your questions.
RealtyShares.com returns
RealtyShares deposits directly to your bank account!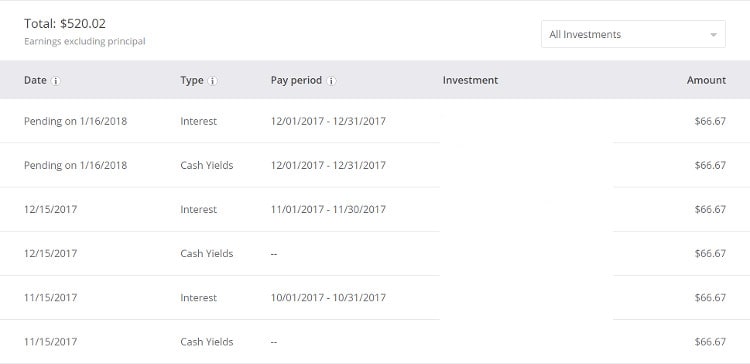 RealtyShares pays you almost immediately after starting the project. Seeing bank deposits within a few months of choosing the project is gratifying. We chose our projects in late July. Those projects completed financing at that time as well. Our payments started arriving in October. So there's a little lag time as RealtyShares completes the loan, the developer purchases the property, and everything gets underway.
I felt there was a little gray period between financing the project and getting paid, where nothing was happening. But be patient: it just takes a little time.
What is the risk?
RealtyShares doesn't share it publicly on their website, but on the phone with an agent they quoted a 2% failure rate on projects.
A 2% chance of failure is extremely low for these returns! The stock market promises ~10% growth, but only if the stocks are held over several years and you don't want to cash out during the bust cycles like 2000 or 2008. Gross.
RealtyShares.com vets each project before listing it on the site. They only accept developers with prior real estate experience. But this doesn't mean it's risk-free. You have to do your own research and pick the projects you think are valuable investments that will repay the debt.
However, a failure doesn't mean you get nothing back. There are three types of loans: debt, equity, and preferred equity.
Types of loans, risk, and returns
Debt: lowest risk, lowest returns (~9%)
Equity: medium risk, medium returns (~12%)
Preferred Equity: highest risk, highest returns (~15%)
Debt is when you act as the bank. If the person defaults on the loan, the asset is sold off and whatever money they were able to get is refunded back to you. So you don't lose everything. This is the most desired type of investment because the chance of losing everything is near zero. These deals are in high demand and usually go quick!
Equity is a step below debt. The people holding debt positions, typically the developer and another bank, will get paid first if the project fails. Then, everyone who has equity debt gets paid. This type of loan means there's greater risk to you because there's a chance of losing everything. But, these loans also have higher interest rates! So there's a little more risk and a little more reward with these.
Preferred Equity is a step below equity. If the project would fail, debt holders get paid first, then the equity holders, and finally-but-not-likely the preferred equity holders get paid. This loan type entails the most risk, but also gives the highest interest rates. These loans often have 3+ year time frames as well.
How long does it take to find projects?
New projects release every Tuesday. The most desirable ones go within a day, so act fast if you find one you like! It took us roughly a month to find two projects that we liked. There were several weeks where nothing too interesting came up.
Expect to spend a few hours per week looking at projects just as the bank would do with their investments. You do nothing except watch money come into your bank account once the research is done and financed.
Projects update periodically on how everything is performing.
Summary
We invested in two properties with 14% returns. So far, everything has been fantastic! Returns deposit in the bank each month without us having to do anything. It's less volatile than the stock market and without the hassle of dealing with renters. I don't think there's anywhere else you can find returns as good as this for so little risk or work.
Head on over to RealtyShares.com and see for yourself. I know we'll invest more with them soon.