Diving has become one of our favorite activities. It's actually not too hard to become a certified diver while on a trip! Getting an Open Water diving certification can take between 2-4 days depending on how rigorous the course is and how much you want to cover. Here's what we experienced to become PADI Open Water divers.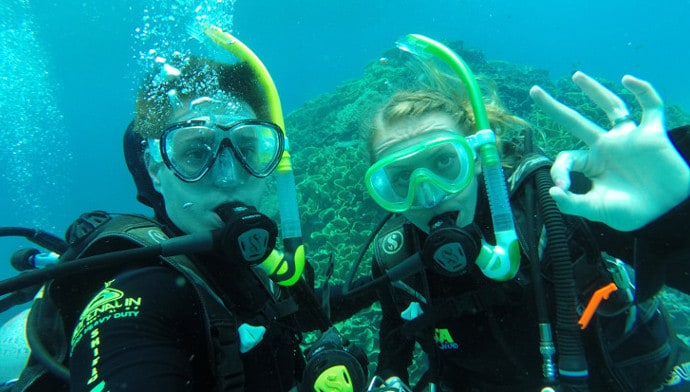 Cairns, Australia
We knew we wanted to do it in a more developed country. While we love places like Thailand, they usually do not have very high safety standards. Or any thought to safety at all. As one Brit put it: "The Buddhists believe in fate, so they don't plan things out. If it's meant to go badly, it will. If it's meant to go well, it will." That's terrifying. SCUBA diving does entail some risks, especially for those unfamiliar with it. But good training in the beginning can go a long way towards keeping you safe and making sure your future dives are enjoyable as well.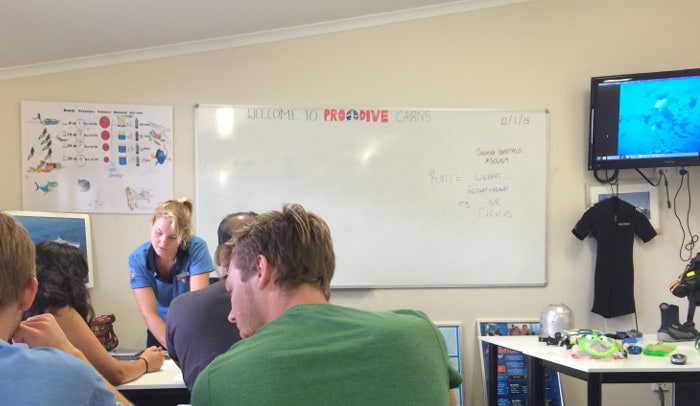 First up, there's some book knowledge you need
I know, I know. Who wants to be in a classroom on vacation? But learning the theory behind what you're doing can go a long way to making it more fun as well as much safer. That's what I really like about the diving community: it's a safety culture first and foremost. You'll learn and practice safe diving over and over again. By the time you get certified, you'll be very comfortable with what to do if something goes wrong.
The dive shops that we've been to have been mostly staffed by younger people looking for a fun career in the sun. There's a lot of 20-somethings that are effectively guarding your life when underwater. When I was in my 20's, I wasn't exactly the most responsible person out there nor did I have a ton of attention to detail. And I still had a bit of the "live forever" mentality from my teenage years. This is a really long winded way of saying: PAY ATTENTION TO THE SAFETY PART OF THE CLASSES. While all of our divemasters have been outstanding, at heart they are still young adults who came to this life to party and night and swim during the day. Don't test their limits. Expand yours.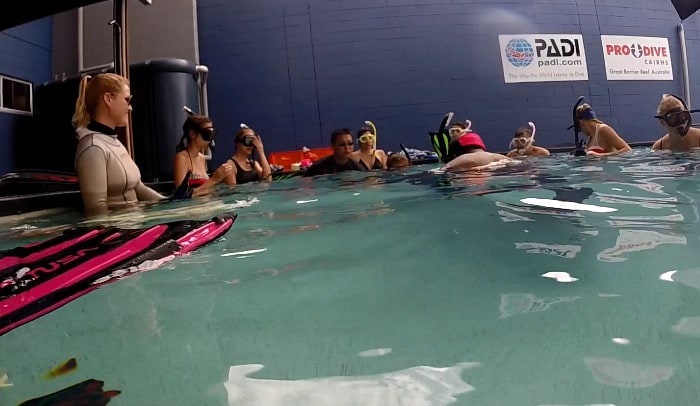 Pool play time!
After learning some theory about how to dive safely, it's time to get in the water and practice some techniques in the kiddie pool. It's only mildly embarrassing that you signed up for SCUBA lessons and are using flippers in the shallow end. Don't worry, soon you get to the good stuff.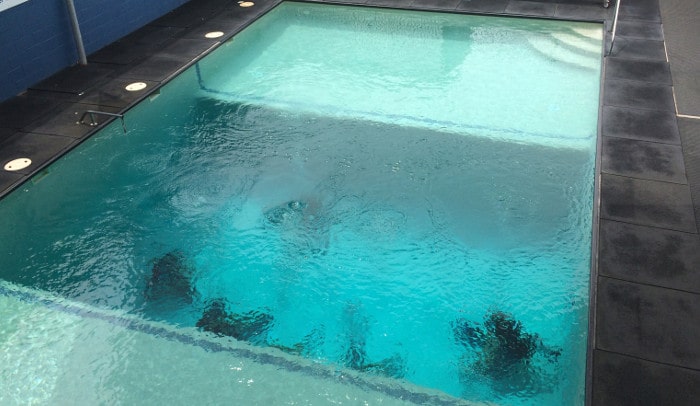 Diving in the pool
Here's where it starts to get good… and scary. Sorry for no underwater pictures here, but they don't allow the GoPro along while training. I think this is fantastic as it keeps the focus on the training.
The scary part is necessary to learn how to deal with potentially dangerous situations. They have you remove all of your gear and put it back on underwater. Off goes the mask and your air. You have to put them back on yourself. There's also the practice of running out of air and having to share your buddies air. I've had my mask and regulator (mouth piece) kicked off underwater by another diver, so it certainly is important to learn these skills so you're comfortable using them when off on your own.
After all of the pool work (sometimes these are done in the shallow parts of the ocean or lake instead of a pool), it's off to the real fun: completing your certification in the open water!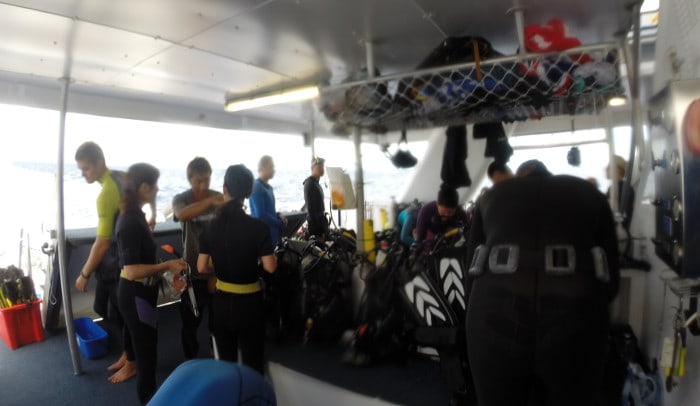 On board the dive boat
The other nice thing about doing it in Australia is the wonderful accommodations. This dive boat costs millions of dollars and drives itself by GPS. Learning on a Thai longboat wouldn't have been terrible, but in Australia there were so many staff members willing to help as well as space on board. When learning something like diving that can be stressful, disorienting, and tiring, it's good to have the little things taken care of.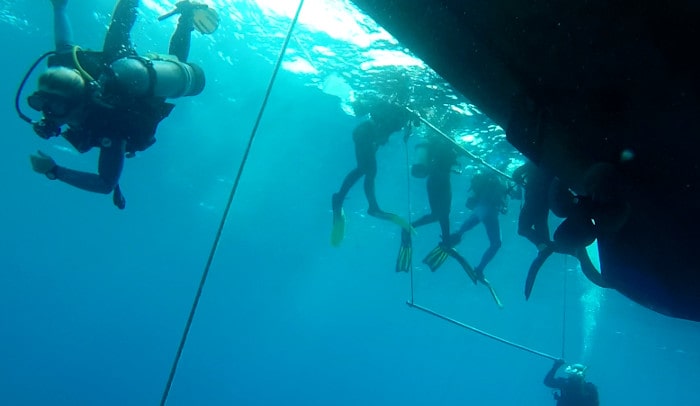 Getting your Open Water certification
Everything that you practiced in the pool, you do in the open water. In the above picture, a class is gathering on an underwater frame before practicing their descent down the descend line. Did I mention how amazing this boat was?
If you can do it in the pool, you can do it in the open water. The Great Barrier Reef was a wonderful choice as there was no current to deal with. When we were in Thailand getting certified on our Advanced Open Water, the current made some of the exercises much more difficult.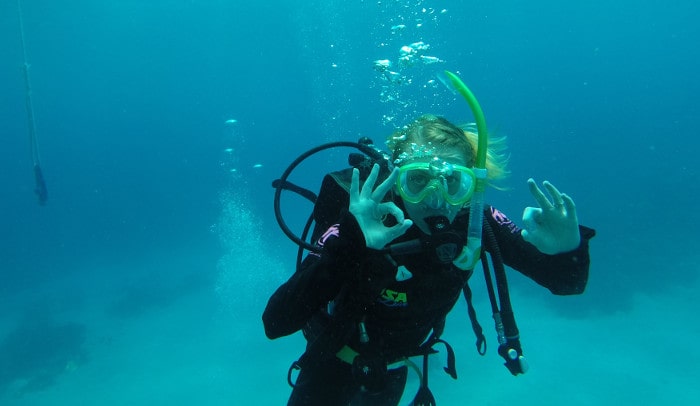 Yay! We're certified!
Diving is a wonderful experience and we highly recommend it if you're even slightly intrigued. While the certification can cost a fair amount, subsequent dives can be very cheap. In Thailand, each dive only cost $20!
We've gone on to get our Advanced Open water certification to dive deeper, we've done night dives, and even dove a wreck! Diving is a wonderful life-long skill and I'm so glad we did it.