Many people wonder what kind of camera to take with them, and ask: is the GoPro good for travel? Here are some of the things we've done with it and our thoughts on the GoPro Hero as a travel camera. The main competitor to the GoPro is going to be a cell phone camera or a step up to more specialized equipment. We are not professional photographers (and you're probably not either) and wouldn't know the first place to begin with specialized equipment, so we we our GoPro's and iPhone 5's for all the pictures you see on this site.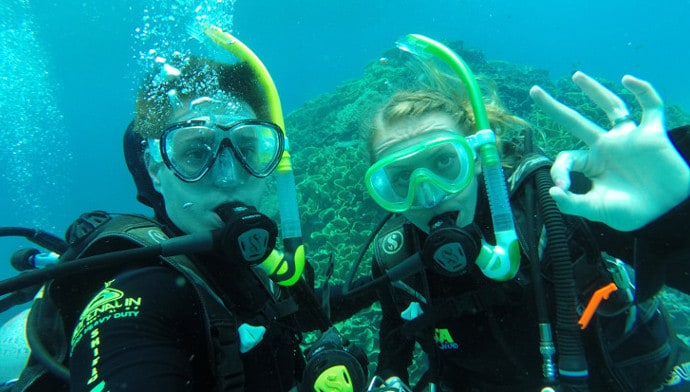 We are using the GoPro Hero Silver edition. If you want the high end version, there's the GoPro Hero Black version.
Beautiful landscape shots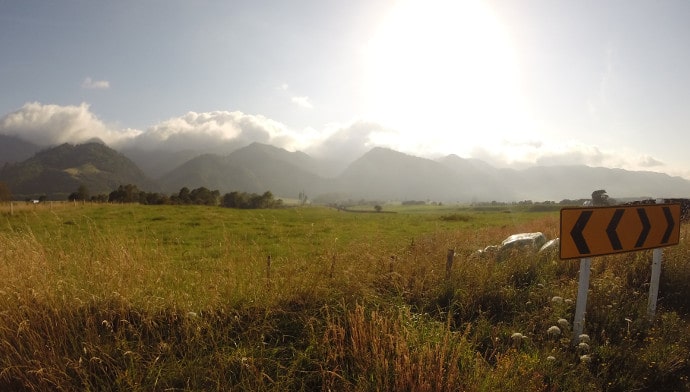 Cell phone cameras have difficulty with larger environment shots because the angle is too small. Every shot like the above tends to look cramped on a cell phone. The wide angle lens of the GoPro allows your shots to feel immense.
Keeps majestic feel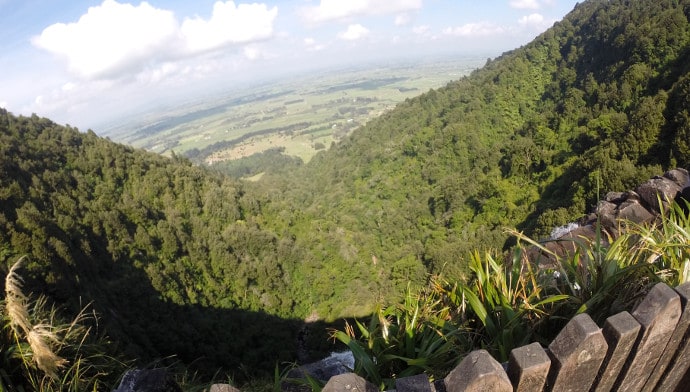 We only took our iPhone 5's up Pichu Mountain in Macchu Pichu, and that was a huge mistake. Somehow the iPhones made a 12,000 foot high mountain look as flat as Iowa. In the shot above, you can feel the ground drop out from underneath you.
Action shots!

NOTE: The quality is low because I didn't want the image size too large. The original is very high quality.
Here we are boogieboarding down sand dune in New Zealand. I'm following Alicia with the GoPro. Fun little action videos like this are possible because the casing on the GoPro is so resilient. All of the sand kicking up would have gotten inside of other cameras or scratched the lens.
Quirky Perspective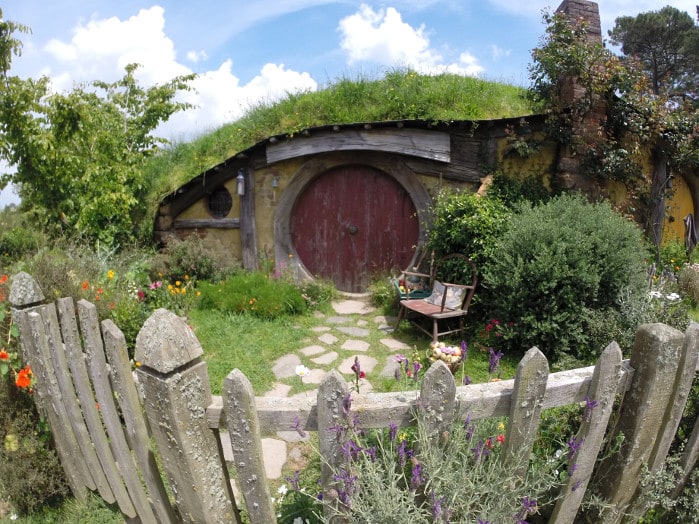 Many people dislike the "fish-eye" effect that the GoPro gives, but I think it's mostly pretty cool. It can take a rather ordinary shot and give it a unique feel. Above, the lens bends the fence around the hobbit-hole. This obviously differentiates it from all those other hobbit-hole pictures you see every day. 😉
The GoPro also has software to take out this fish-eye effect quickly and easily if you so choose.
Underwater shots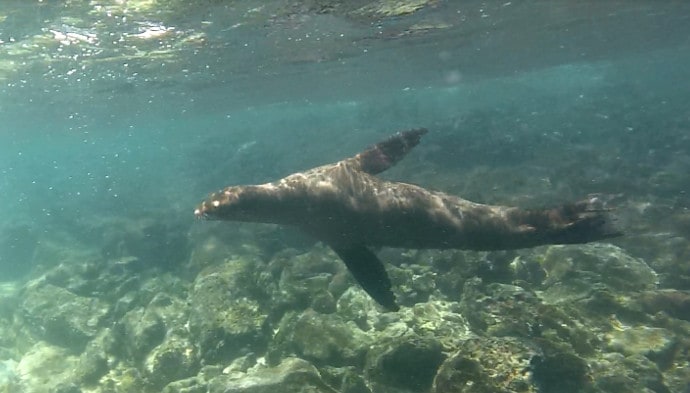 Here's where the GoPro scores really well, and really poorly. It's stupidly easy to take the GoPro underwater with the waterproof case that comes standard. However, low light conditions are not really favorable with the GoPro (more on that in a second).
Indestructible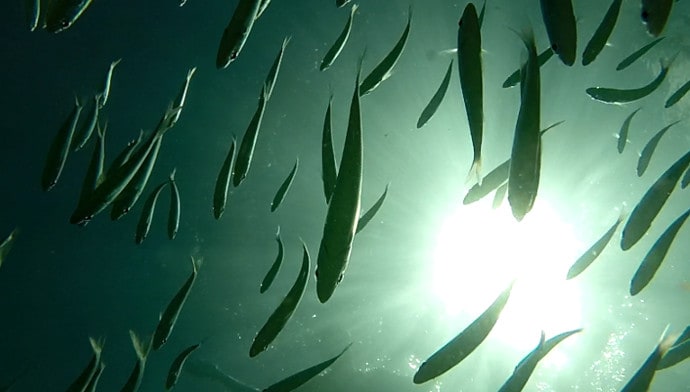 As you can tell by now, we take the GoPro everywhere. It has survived all the banging around in our luggage through the past 8 countries without any signs of wear. In the Galapagos I was throwing the camera through the air into the water to see watch the videos afterwards. I've placed it on the bottom of the ocean while snorkeling and scuba diving and swam away.
Meanwhile, my iPhone 5 falls out of my pocket ONCE during this trip and the screen gets shattered.
Tour company compatible
If a company is going to offer camera mountings for tourists, it's almost always for GoPros more than any other camera. Here are some of the places where the company specifically called out that they had GoPro mountings:
Scuba diving in Cairns, Australia
Paragliding in Lima, Peru
Go-cart/ATV places all over
Even if they don't have a mounting, chest/head harnesses are available to use.
Tie-ins with other products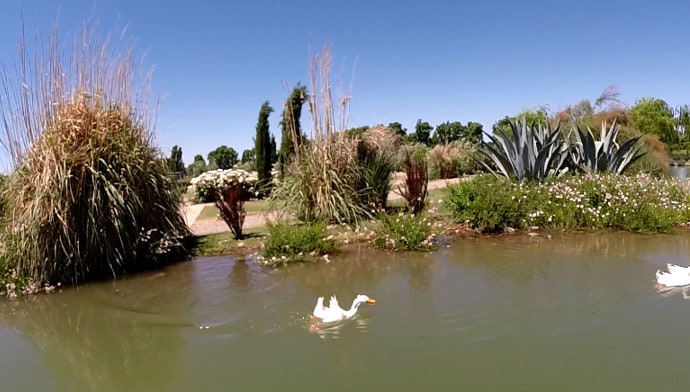 One thing I really wanted to do while traveling is take aerial photos. Long story short, other countries aren't really big on quadcopters so I had to quickly ditch the idea of taking what is seen as a spy device into other countries.
However, since GoPro's are so widespread, they are often available to be used in conjunction with other products. So I can mount the GoPro onto my quadcopter to get aerial footage without having to buy another specialized camera.
Spare parts available in almost every airport
GoPro kiosks are all over the place. I accidentally lost the charger for ours while on the trip. We were able to replace it quickly and easily when we got to the airport. Also available are the general selfie-sticks, head/chest/wrist harnesses and the like.
Size
Everywhere we go, we see people lugging around their gigantic camera equipment. It often requires its' own special case or bag. The special cameras can also be very heavy as well. Having a several pound weight around your neck all day can become pretty tedious.
The GoPro is so tiny and weighs very little. It's easy to pack and easy to carry around all day.
Ease of Use
Point. Click. Repeat.
I know nothing about photography. My motto is to take as many pictures/videos as I can and hope some of them turn out. So far, so good! We've traveled with other people that have much more capable gear, but they end up taking far worse pictures because they don't know how to use their expensive camera. With the GoPro, it's just too easy.
The not-so-good: low light environments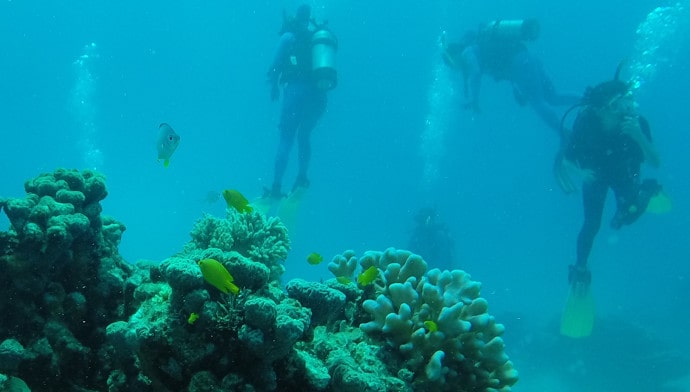 We tried taking the GoPro into caves to capture glowworms in New Zealand. All we got were black images back.
Underwater photography, while great, is limited as well. The vibrant colors wash out into a muddle of greens and blues.
Now that we know this, we make sure to use our iPhone cameras during low light and/or evening shots. It's not the greatest solution as the limitations we've mentioned before still pertain to them, but we are still able to capture good enough pictures: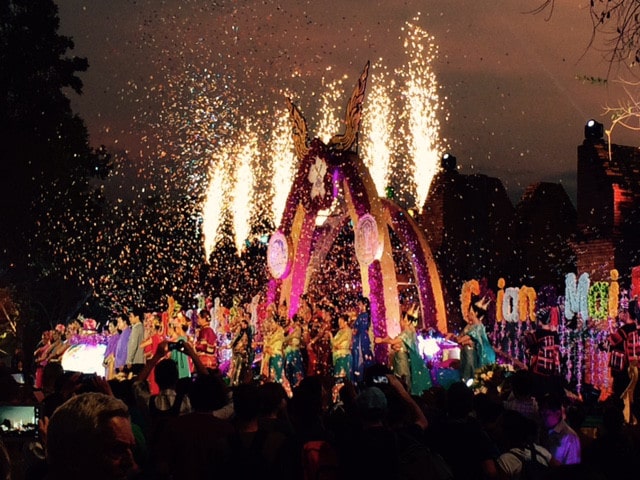 Post processing is a necessary evil in photography, but I still don't do it
Nothing you see on this page has been altered beyond re-sizing size to fit the layout and file size to help be more web-friendly. So if you have qualms with the quality of them, it's because I deliberately reduced the image size from several MB down to under 200KB and didn't clean them up on the back end.
The large versions are much better all by themselves, so don't get discouraged if you don't like these particular images. The raw images taken are spectacular and the images on this page are greatly reduced in quality to fit the web format.
If you are into post processing with something like Adobe Lightroom, I'm positive you can work miracles with the pictures you get back from the GoPro.
Overall
If you want to learn a lot of photography and get the best pictures possible, it requires significant investment of time to learn how to use that expensive camera properly.
If you just want to enjoy your travels while still taking really good pictures and video and not have to know a lot, the GoPro Hero series of cameras are fantastic.