What would you take with you when planning a year-long trip? Here is our packing list. We looked at other travelers to get ideas of what to take beforehand, and we had one very clear goal: to not check any baggage on airlines. This would keep the amount we had to carry very low. That becomes important as other countries don't have the space or facilities to lug around huge suitcases. Hotel rooms are typically tiny, and hauling a big roller bag through big cities is exhausting.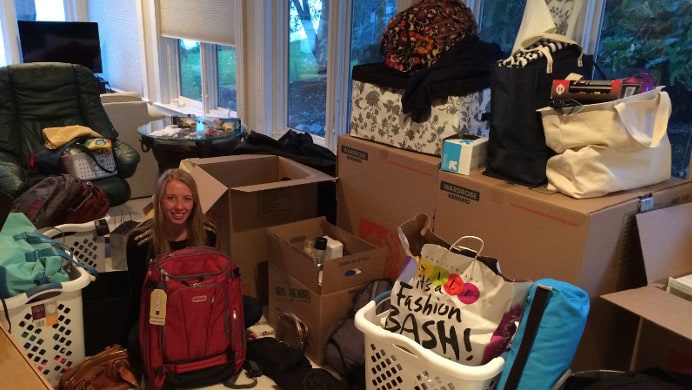 The above picture is what Alicia was considering on taking. Everything must fit in that little red backpack!
The backpacks have to measure 22″ x 14″ x 9″ or smaller (under 45 linear inches) and hold less than 40 pounds. If you travel a lot, you'll notice that's significantly under the 62 linear inches and 50 pound limit that most US airlines require. International airlines have a smaller size bag that we need to allow for. Plus, the bag can't be over-full since it will break those requirements. After a few long nights and a lot of hard decisions, here's the finished product! Our lives are now stored in backpacks. What's in these packs? Here's everything in my (John) packing list in regards to clothes. We mostly plan on warm weather environments.
3 pairs of pants – 2 jeans, 1 lightweight hiking
6 shirts – 1 dress shirt, 4 T-shirts, 1 hoodie
6 pairs of underwear
2 pair shorts – workout and swim
6 pairs socks
running shoes
sandals
pull-over
rain coat
Specialty items include:
toiletries
laptops
Kindle paperwhite
UV water purifier
duct tape
Ibuprofen
sunscreen
GoPro
power adapters/chargers
sunglasses
A separate, specialty backpack to hold John's DJI Phantom 2 with recording equipment
That's it! We were able to get all of our lives into carry-on backpacks!